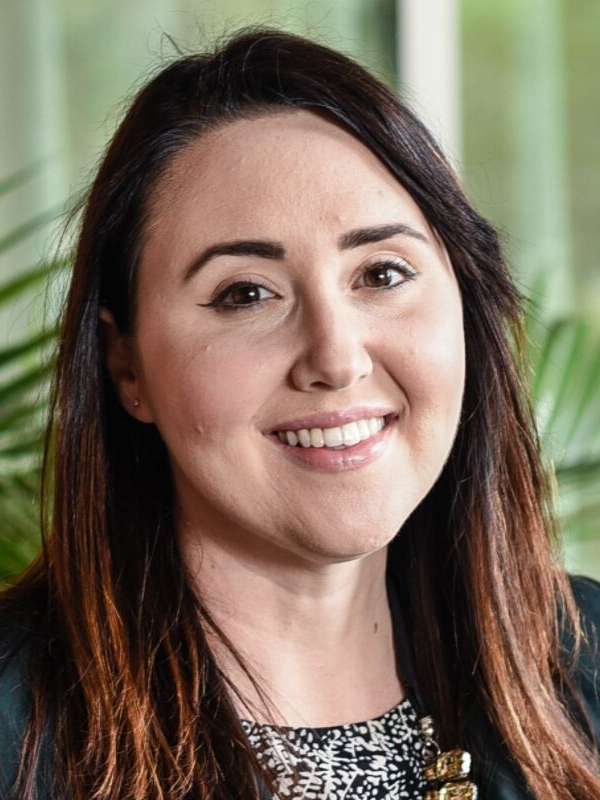 LIA MENNA
Sr. Vice President
---
She's Hands-On, Managing the Process from Conception to Completion and Beyond
---
From a morning of strategizing a real estate Qualified Opportunity Fund and building plan reviews in the office, to an afternoon at the sweltering jobsite she's constantly shifting gears. She's keeping the latest project on track, pushing the next one into development, and keeping an ear to the ground for that next perfect location.
As the Senior Vice President, Lia Menna works alongside both her father and her husband. The three are an impressive and accomplished team as can be seen by the number of successfully completed projects over the years.
Lia oversees the day-to-day operations of the company's properties as well as future development endeavors.
---
She's very hands on with the hotel design and the overall evolution and roll out of the development process.
It begins with the process of securing the land through all the development phases to the Grand Opening & Hotel Management.

Although Lia has worked in the hospitality and real estate industry most her life, she didn't join the MDM family until 2009.
Before assuming the role of Vice President of Operations, and then moving up to Vice President, and finally Senior VP, she wore numerous hats ranging from real estate acquisition, to hotel brand marketing and sales, to the sale of MDM owned & operated properties.

Her unique blend of skills and experience has made her well-suited to her position. Before joining Menna Development, Lia worked as an independent real estate agent and property manager. As a real estate agent, she would execute the sales of both residential and commercial properties. In her role as a property manager, again, she was very hands on, attending to all aspects of residential and commercial property management for several company portfolios.
---
Her first exposure to the world of hospitality was her grandparent's Inn, a family owned and operated nine-room efficiency hotel where guests often rented for the entire season. Just like her father before her, she helped her grandmother care for the Inn and its guests, and she learned all aspects of hospitality. Most importantly, she learned from her grandmother that the guests are your friends and family-- give them excellent service and care, going that extra mile, and they will come again and again.
During and after college she worked in a variety of hospitality positions ranging from banquets and events to waitress, hostess and guest check-in, always going that extra mile.
She holds a bachelor's degree in Music and Modern Languages from Eckerd College and is a licensed real estate agent in the state of Florida.
She was accepted to an Opera program in the Manhattan School of Music in New York, where she trained as a soprano. When she returned to Florida, she sang Soprano with Opera Tampa. She entered competitions around the United States and was invited to sing for Chicago Lyric Opera House. Although she loved the Opera, she also had a love for design, development and real estate, which ultimately is the route she chose.
Lia also attended both the Art Institute of Tampa and the IADT Design School, where she took night classes while working Real Estate and Property Management during the day.
---
---
During her tenure, she's been a key player in the development, management and eventually sales of these MDM projects:
Tru by Hilton St. Petersburg Downtown Central Ave (Under Construction)

Hilton Garden Inn Tampa/Suncoast Parkway Lutz

Staybridge Suites St. Petersburg Downtown

Residence Inn by Marriott Tampa/Suncoast Parkway at Northpointe Village

St. Petersburg Marriott Clearwater

Courtyard by Marriott Tampa/Oldsmar

Residence Inn by Marriott Tampa/Oldsmar
---
Lia has been a member of the local Relay for Life of Carillon - a cancer support and fundraising group in St. Petersburg. They hold an annual event, for cancer survivors and caregivers to help raise awareness and funds. It's her hope that more people will be fully cured from cancer with each new year.
Ms. Menna was also on the board of the Morean Arts Center, a museum located in St. Petersburg. One of the major accomplishments of the Morean Arts Center was to establish a permanent home for the Chihully Collection.
She has also worked with many local artists, helping them to display their works in various hotels and establishments in the St. Petersburg area. Today, showcasing local artists has become a trend in St. Petersburg, something Lia feels she helped to bring about.
---
---
Lia and her husband Josiah are the proud parents of one son, Luca who is now three years old.
She says she would like to be remembered most for trying to be the best mom – despite her exciting and challenging career, doing right by her son is the most important thing to her.